About The DigitWheel Team
DigitWheel is a small international team dedicated to helping lottery enthusiasts around the world discover, master, and enjoy new ways to practice combinatorics.
About the algorithm behind our service
The algorithm is based solely on the theories of combinatorics and incidence matrices. It was implemented as a program, with the help of which data sets for this services were founded.
Of course, we don't pretend to have created or discovered the algorithms and mathematics at the foundation of these services — we're good, but not that good. However, DigitWheel App does introduce an original user-friendly interface, totally unique to Lottery Wheels. It allows you to receive structured data that form a lottery Wheel from selected numbers, according to certain parameters and the winning criterion. This can dramatically increase your odds, compared to the frequency and haphazard game. But not always! Most importantly, every time these applications are started, they return a randomly selected Wheel from all the Wheels, each of which forms a covering that meets the parameters and specific criteria.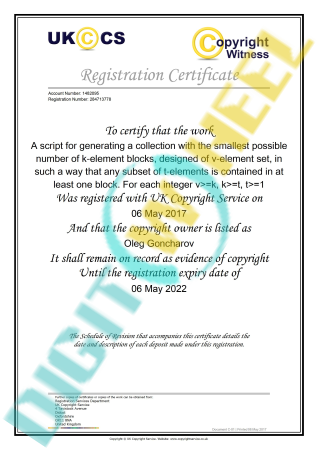 About the mission of the service
We truly hope that you enjoy using DigitWheel, that it helps distract you from everyday affairs, and introduces you to the unique joys of combinatorics. But do not forget, in the world there is nothing perfect and this service is no exception. Do not assume that combinatorial calculations, incorporated into the basis of the service, will always help you win the lottery. Nevertheless, this service is entertaining.
We hope you enjoy the Apps. Good luck!